Meet… Our Milan Office
10 October 2023
Meet Milan! This month, we caught up with our Italian team to discuss their role in expanding our presence in Italy and Southern Europe, what fuels their passion for engineering, and their current projects.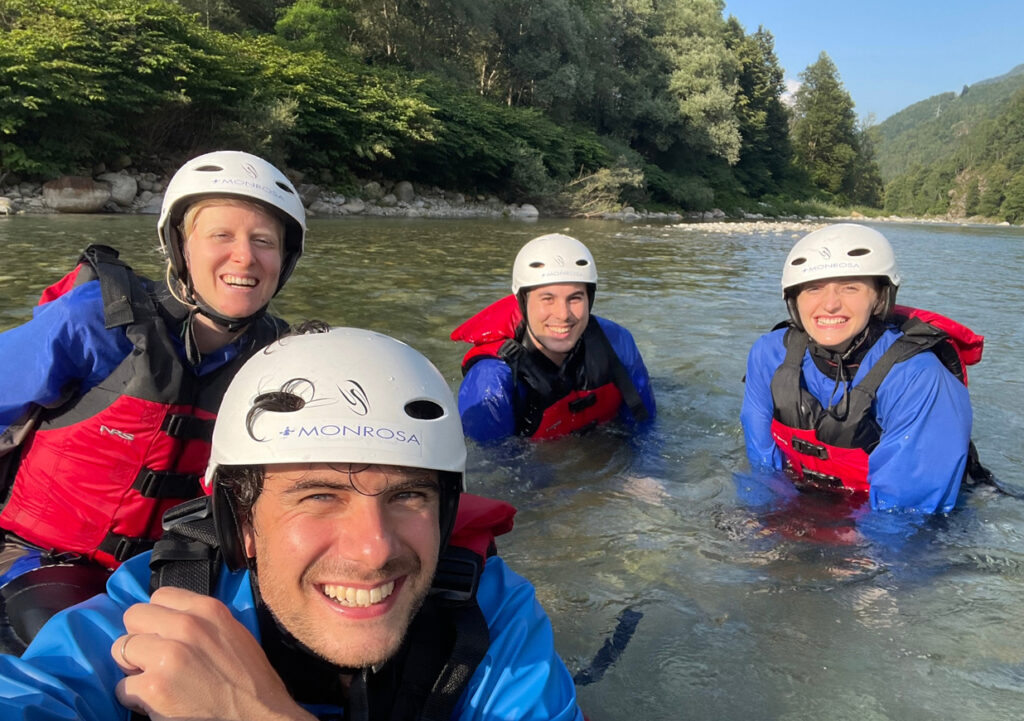 The office opened its doors in 2022 and is managed by Alessandro Baldini, Associate Director, CEng, MCIBSE and member of the Italian Order of Engineers. Alessandro was educated in Italy, worked locally in Milan and Rome, and has extensive facade engineering experience on projects across the world whilst working in Eckersley O'Callaghan's London office.

We caught up with Alessandro along with Senior Engineer Chiara Tosi, Project Engineers Adrienne Totpal and Andrea Bonizzato, and Graduate Luca Consonni. The Milan team provides the full spectrum of Eckersley O'Callaghan's services in facade and structural engineering, bringing a focus on sustainable design and the innovative use of materials. Alessandro kicks off the conversation with his views on how engineering has played a role in Southern Europe.

What is engineering's role in Milan and in the wider Southern European construction market?
Alessandro: Milan is an exciting place to be, with many great architects active here and significant urban regeneration projects on the way. Engineering plays a vital role in Southern Europe's historical preservation and modern designs. In a region rich in engineering history, we have the opportunity to shape sustainable, safe, and socially impactful architectural landscapes. Collaborating with architects, developers, and urban planners, our multidisciplinary approach and input contributes to attractive, functional, and sustainable urban environments blending historical charm with contemporary aspirations.

What interests you most about engineering?
Adrienne: Engineering is one of the most powerful tools we have at our disposal to positively impact our environment. It's intriguing to see how asking 'How does it work?' can evolve into an interdisciplinary collaboration amongst professionals, lead to solutions for new and complex problems, drive technological innovation, and culminate in the potential for creating something entirely new.

Andrea: To me, the most interesting part about engineering is turning ideas into something that one day could be built. I especially like the multidisciplinary approach that facade engineering requires, dealing with different fields such as structural, thermal and architectural detailing. It's interesting being part of the development of new buildings where people can experience innovation.

Why Eckersley O'Callaghan?
Chiara: Being a part of the Eckersley O'Callaghan team is an opportunity for me to work in an international environment, collaborating closely on projects spanning the globe. The company's strong focus on research and development ensures a dynamic environment, with technical knowledge being shared across different offices. Moreover, the incorporation of sustainability as a core design principle is a strength that EOC brings to its design approach. I believe that this aspect holds great potential in adding innovation and value to the projects we are currently involved in Italy.

What aspects of your work are you most passionate about, and why?
Luca: One of the most fascinating and rewarding aspects of my work is the analysis of the facade and its impact on the visual comfort and lighting of interior spaces. The opportunity to understand and predict the effects of sunlight on both the facade and interior creates an engaging challenge, demanding continuous search for solutions that enhance functionality while maintaining aesthetic harmony.  

What are you working on at the moment?
Chiara: An interesting project that focuses on innovative facade solutions for an Italian residential development, aligning with performance needs.

Adrienne: I'm currently working on diverse projects in Italy, the UK, and the Middle East, all emphasising innovation, attention to detail, and sustainability; offering valuable professional growth with renowned architectural firms.

Andrea: I'm currently engaged in a US high-rise curtain wall project, exploring a new facade engineering approach and the American design process.

Luca: Two fascinating residential projects in London and Rome that prioritise prefabrication for reduced environmental impact.

Alessandro: I am broadly committed to the growth of the business and of our Milan team, being actively involved in most of our current projects locally, in Southern Europe and internationally. I am also currently leading the facades R&D work across the global offices.